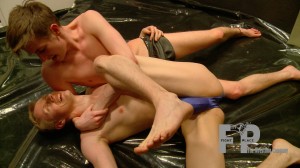 In the middle of the night Jeremy tries to break in the flat of Lasse and Barney. He is upset because Lasse is now together with his ex friend. Lasse tries to get rid of him at the door but Jeremy wants to clarify that man against man.
In the fightroom Jeremy puts the sleepy Lasse through the mill. Barney wakes up through the noise and barges in. A hard fight between the ex friends is about to begin. Jeremy (22) is well trained and experienced and puts his ex to floor again and again. Barney has no chance and gets really upset but finally surrenders. He has enough and heads back to bed again, leaving the two boys alone.
Lasse got quite horny during that fight and wants a second fight against Jeremy. When Jeremy puts his dick on his face he takes the chance and shows Jeremy that he wants sex. He puts the dick in his mouth and starts a blowjob. At first Jeremy struggles but after some time you can see that he´s also hot, too and so the fight switches into a love game. Jeremy takes Lasse from behind, lets him lick his balls and enjoys a good blowjob. In the end there is a happy end of both of them.