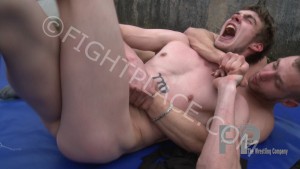 Toni meets the newcomer Rico at his garage.
The boys are talking about the last fights at Fightplace. Rico is showing his muscles whilst they talk. He looks good in his new shirt. Toni seems unimpressed but internally he dislikes that the newcomer is showing off. So he challenges him to a match.
Both fighters go hard on each other and are not sparing their clothes. Toni rips Rico's new shirt apart. Now the fight is getting even harder and more brutal. Rico has a lot of power but toni knows more tricks and he is less shy than Rico. So he starts with ballgrabs, then rips Rico's jeans and after that his Slip. Both opponents are now naked and Toni is starting to torture Rico. Toni strikes again and again Rico's weakest point. To top that he binds his balls with the ripped Slip. This probably hurts a lot! Now Toni binds the tortured Rico's arms behind his back with parts of the jeans. This is the end of the fight and Rico is left to the mercy of his brutal opponent.