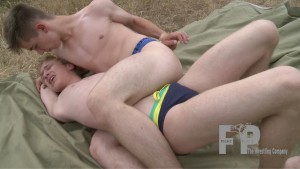 Devin and Moe spent an evening at a lake. There they walked on the beach
and had a fun battle, throwing gravel stones. But the good mood
turned when Moe nudged his friend into the cold water. Devin was totally
mad, but Moe just laughed at him. Devin is about two years younger than
Moe, and so respected him a little, but when Moe started being unfair,
Devin wanted to get his revenge.
A small meadow near the place became their ring to stage the fight. Moe,
slim, wiry and very hardened, versus Devin, about two years younger but
still very muscular.
In the first minutes, both fighter were careful, they checked each other
out, but soon Moe dominated with many schoolboy pins. About ten minutes
later they took a break to pace themselves. Moe had to use his technical
skills to handle the powerful Devin. They performed very nice and very
long moves, which turned into pure pain as neither of them wanted to
give up. Nice scissors turned into headlocks and we saw some complex
moves too, such as camel clutches.
Moe also dominated his opponent with several bully pins, which got Devin
totally mad. We won't tell you who gave up first. Just enjoy watching
the confrontation between the Fightplace youngsters.