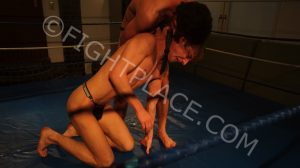 It´s been three years since Hardy had his bizarre erotic fun with Knut. It crackled some times between the two guys and so it was time to bring them together again.
We never know in advance how a fight develops but when you send those guys together into the ring the outcome can only be a hard SM session.
Knut comes back from running and wants a shower while his friend Hardy is working hard in the house. When Knut has finished his shower he finds an old magazine with erotic picture and hides for some erotic dreaming.
Hardy wonders why his mate does not come back and starts searching. He discovers Knut masturbating. He secretly sneaks away. Now he dresses his fetish gear and starts to plan a punishment.
In his latex wrestling singlet he sneaks back to Knut again. He yanks him from his couch and throws him into the ring. Knut should also dress into something hotter since he wants some fun as well while punishing Knut.
We won´t prevail any details but both guys even went a bit further than the last time. Hard wrestling action alternates with torture and erotic scenes.
Knut even fights back but overall Hardy is dominating the fight. He keeps Knut under control with cock and ball grabs. Hardy punishes his friend with all kind of mean techniques like facesitting, bondage, gagging and whipping.
Since it was a sporty fight overall while the guys where in the ring the whole thing changes into a pure bondage and SM session when they head into a dark side room.
Bound and gagged Knut has to suffer the whole hardness and horniness of Hardy. The reconciliation between the two is not until they finally shower together.