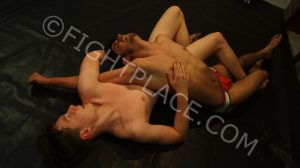 The old question: who wins a fight boxer vs. wrestler?
We would like to find an answer for us and therefor invited Ali (18), boxer and soccer player and Bruno (16), wrestler.
First they meet at the punching bag. Bruno does ok but you can see that it is not easy for him. For Ali on the other hand it is easy and you can see his strong punch.
But the question is who will win the real wrestling match? Ali, new at fightplace, is bigmouthed and predicts that Bruno will also lose the wrestling match.
Bruno who has gained more muscles since his last fight is looking forward to show his wrestling tricks.
It will be an exciting hour with Bruno and Ali. Both give everything. Who will be the final winner will not be prevailed. Is it the wiry but well trained Ali at his debut or the younger but sturdier Bruno with his wrestling experience?