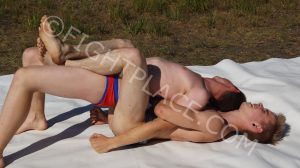 It starts as a funny game but ends in a tough contend for power and victory.
Bruno who has shown some good fights during the last time wants to compete against Joe. They meet at the river.
The guys know each other from their BMX battles. Now they want to know who is the better one on the mat.
Bruno is two years younger than Joe what you see at his fighting experience and callousness. Bruno is good for sure, but Joe is better, especially cheekier and more impudent. When he sees that he gets upper hand he shows his sadistic vein. He puts Bruno through the mill especially with leg scissors.
Than he holds him and annoys him with nipple twisters or similar cruelties. That would be ok Bruno but Joe goes some steps further. We don´t want to reveal every detail but Joe has fun dominating other guys. And in this fight he shows it without restraint in. Bruno tries to fight back as hard as he can but has only few successes against the stronger Joe. But he fights bravely, doesn´t give up and resists the torture for 60 minutes.