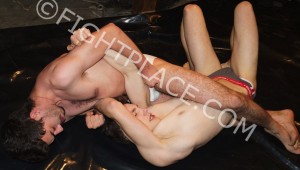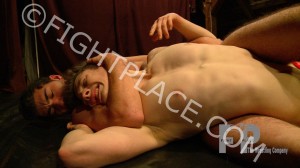 Barney animated the two fighters with some bugs for a match. Winner takes all. The new series of fightplace: The winner will get all of the money and the loser's getting nothing.
The match started like a common one. The fighters don't know each other so they are a little bit hesitate. But then Barney evocatived them for the money, which they can win and suddenly they started the real rumble.
The really cute Pierre (18) started his Fightplace-Debut with fighting one of our most eccentrical fighters. But Hardy has no easy job of it. The well trained Pierre already knew some tricks and has lots of stamina. So the fight became a hard battle.
They are performing a lot of SchoolBoyPins, Scissors and Headlocks. Pierre prefers the torture the biceps of Hardy, while he did SchoolBoyPins. Hardy returned with soft boxing punches and Nippletwists. But we do not reveal if the cute Pierre is able the beat up Hardy. But the end proceeded contrary to all expectations.