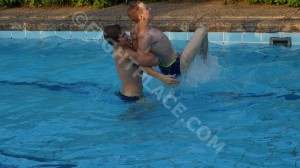 Ramon and Joe entered the swimming pool. They just can't resist
competition, always wanting to know who is the better or the stronger.
So first they saw who was able to make the best dive, and then who could
swim the fastest.
They continued their contests until they got in trouble and began to fight in the water. Ramon was able to dominate the confrontation,
continually hitting Joe in the stomach (gut-punching) and pushing his
head under water, rendering him unable to breath.
Sometimes Joe was able to turn the fight, but today Ramon was the
stronger one. His headlocks and arm locks made him able to push Joe into
the water again and again. Joe tried to counter this with some bear
hugs, but his opponent is a heavyweight.
Joe fought until he was totally done, but even this was not enough for
Ramon. He exploited his advantage to the full, to dominate the fight
without leaving any chance for Joe.