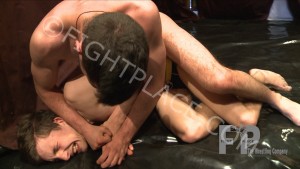 Hardy was walking through the town. When he met up Piedro the trouble was inavetable. They crashed up into each other and remembered the past fight at the attic. Piedro started to Talk about this and wanted to get his revenge.
Hardy didn't want to rumble on the streets, so they decided to enter the attic again.
In this fight will be no mercy for Piedro. The last fight of them was Piedro's first one so he got a period of grace.
The first minutes were more quiet and they respected each other. But this changed after a few minutes.
Hardy enjoyed his cute opponent and Piedro had to notice that. But Piedro didn't wanted to use any erotically stuff, he just wanted the victory. Since the last fight, Piedro had same other ones, too. So he got more experience and more tricks.
Hardy seemed to be a little but surprised of that. It was very hard for him to contest his opponent. Both of them have good technical skills. Scissors, Headlocks and schoolboypins are very common in this fight. But what about the stamina? If Piedro dominated Hardy he was just able to counter with ballgrabs.
Is Piedro able to win this revenge or will Hardy be the winner of this duel?