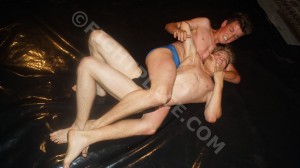 This time Joe(17) and Ramon(16) are fighting with joint forces against the team from Albania David(17) and Manu(17/New to Fightplace). As daintily as the two boys from the Balkan are looking, they should not be underestimated, at least in a fight. Both teams are showing a brilliant performance in this tag team match.
Even Ramon, our "big guy", has trouble against the fast and very agile boys of the enemy team.
Joe is getting better and better and in the end out does himself. What he is performing today, none of our friends had seen before. What has become out of the small Youngster, even though his short time in Fightplace, shows a bright future for him. He is getting better and better in using his steeled and muskeld thighs for his Scissors, which are very harmful to his enemies. These are countering with speed and some hard punches. David is breaking almost small Joes arm, when it cones to EVERYTHING at the end. But Joe, tough like never before, is not giving up. 70 minutes full of tension and action, till the very end.