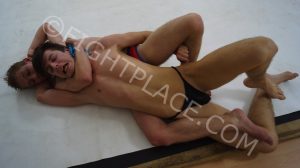 Moe needs money. He just has 100 EUR left but needs more for his bills. He thinks about gambling but then gets an idea: he wants to double his money through a fight. So he waits in front of his flat until someone of the fightplace team comes by. He wants to offer a fight for 100 EUR – the winner gets all.
Knut comes along the street. Moe heads him off and makes his suggestion. Since Knut always needs money as well and not seeing Moe as a big danger he shakes on the deal. After all Moe is smaller, lighter and has less muscles than him. Moe has prepared his flat for the fight already so they start right away.
After some minutes you see that it´s not really about the money. Moe wants his fun and relieve all his aggressions on Knut. So he attacks brutal and hard. It starts with schoolboy pins, muscle riding and slaps in the face. But develops into a punishment match with some erotic parts.
Knut can counterattack from time to time and get Moe underneath him but he didn´t expect that much energy and fury by Moe. They do not only use the usual wedgies and ballgraps. They pinch and bite, grab and squeeze on their balls and cocks. Moe really wants to punish and humiliate the opponent. He slaps him with his best part in the face and trashes his ass. As we know Knut likes such a perverse treatment but sometimes it´s too much. Than he collects all his power and fights back. And he can deal blows as well. But Moe just gets wilder by his actions. At the end it looks bad for Knut. Moe gives everything, attacks him with his feet, uses extreme scissors and plays his slightly pervert games with him.