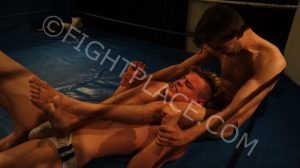 Bubu is on the road with the delivery truck and Jermaine is awaiting his return since he is already away for quite some time. When he finally arrives the anger is big. Bubu has trashed the truck a lot. A flat tire, multiple dents – Bubu seems not to be the best driver.
The guys get into a conflict and nearly beat each other on the yard. But there is this fight club in the neighborhood. They check if somebody is in and climb through a window to sort things out inside.
They start the attack in the boxing ring. And they really want o to know it. There is no tit for tat – it is about submission.
If Bubu is not a good driver, he can fight instead. Bigger Jermaine always gets into the traps of Bubu and can hardly get free again. And Bubu gets mean. He exposes Jermaine with his extreme wedgies completely and tortures him with his legscissors.
His strong thighs and good tricks are Bubu´s signature. But he also wears Jermaine out with schoolboypins including muscle riding and slaps into the face.
Jermaine on the other side can deal blows as well when he is able to. But his successes are short. A hard not always fair submission fight with some nice punishment features.